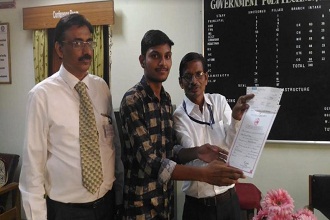 Congratulations!!
Saurabh R. Shinde
All Over Maharashtra
First Rank in 2018 (Chemical Engg.)

Vision:
To produce competent technical manpower in Chemical Engineering for fulfilling needs of industry and society.

Mission:
1)To impart need based technical education in Chemical Engineering.
2) To modernize departmental laboratories and facilities.
3) To train faculty and staff to meet challenges in socio-technical environment.
4) To inculcate values and ethics among students.
Program Educational Objectives (PEOs):

PEO1. Provide socially responsible, environment friendly broad-based solutions to Chemical Engineering related problems adapting professional ethics.
PEO2. Adapt state-of-the-art of Chemical Engineering by implementing advanced technologies to work in multi-disciplinary work environments.
PEO3. Solve broad-based problems individually and as a team member communicating effectively in the world of work.
Program Outcomes(POs):

PO1. Basic Knowledge: Apply knowledge of basic mathematics, sciences and basic engineering to solve the chemical engineering problems.

PO2. Discipline Knowledge: Apply Chemical Engineering knowledge to solve industry based Chemical Engineering problems.

PO3. Experiments and Practice: Plan to perform experiments and practices to use the results to solve technical problems related to chemical engineering.

PO4. Engineering tools: Apply relevant technologies and chemical engineering tools with an understanding of the limitations.

PO5. The engineer and society: Assess societal, health, safety, legal and cultural issues and the consequent responsibilities relevant to practice in the field of chemical engineering.

PO6. Environment and sustainability: Apply chemical engineering solutions also for sustainable development practices in societal and environmental contexts.

PO7. Ethics: Apply ethical principles for commitment to professional ethics, responsibilities and norms of the practice also in the field of chemical engineering.

PO8. Individual and team work: Function effectively as a leader and team member in diverse/ multidisciplinary teams.

PO9. Communication: Communicate effectively in oral and written form.

PO10.Life-long learning: Engage in independent and life-long learning activities in the context of technological changes also in the chemical engineering and allied industry.
Program Specific Outcomes (PSOs)

PSO1. Chemical engineering equipment: Operate equipment and materials effectively and efficiently used in chemical reactions.

PSO2. Material management and quality control: Manage chemicals and equipment to produce quality chemical products.
Departmental Laboratories:

Curriculum:

Odd Semester

Even Semester

G
Scheme
W.e.f
2011-12

I
Scheme
W.e.f
2017-18

SEM-IV

SEM-V

SEM-VI

Time Table:

| | |
| --- | --- |
| Odd Semester | Even Semester |
| | |
| | |
| | 2018-19 |
Achievements:
| | |
| --- | --- |
| Student Achievements | Faculty Achievements |
| | |
| | |
| | |
Result Analysis:
| | |
| --- | --- |
| Odd Semester | Even Semester |
| | |
| | |
| | |
Expert Lectures & Industrial Visits:
| | |
| --- | --- |
| Expert Lectures | Industrial Visits |
| | |
| | |
| | |
Extra Curricular Activities Organized By Department:
Faculty Profile
Name

Post

Email

Mobile

Detail Profile

Dr. Ninad R. Jawade

HOD

9420057850

P.D.Khandekar

Lecturer

7588748939

Manish C. Lonare

Lecturer

9975055176

Saphal U. Patil

Lecturer

9422159890

Chandrakumar
B.
Mohod

Lecturer

cmohodlit@gmail.com

9860557063

Satish P. Soge

Lecturer

satishsoge24@rediffmail.com

9552437620